When the sun is shining we all can't help but feel a little bit of Spring fever! A little snow won't discourage our desire for sunshine, warmth, the outdoors, gardening, and more! Over the next few weeks there are a lot of opportunities to catch a craft and/or antique show around town! Come check out a few or all of the shows to see hundreds of vendors that provide different services in our community. Signs, plants, bags, baby accessories, boutiques, gardening necessities, make up, skin care, etc… the list goes on! There is something for everyone. Here are just a few listed below that begin tonight! Grab dinner with the girls, a coffee with mom, or even take some quiet time to yourself and browse!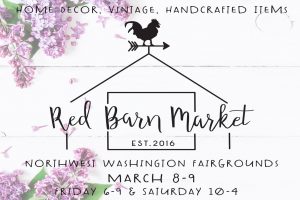 The Red Barn Spring Market begins TONIGHT @ The Northwest Washington Fair & Event Center.  A Fresh New Market that you don't want to miss!
Featuring: Vintage, Craft, Home-Décor, Boutique Clothing, and so much more!
Friday 6-9- Yummy Drinks, Prizes, Goodies and other special surprises! AND Saturday 10-4
Admission is just $4.00 (general) and $6.00 on Friday for VIP (option of either general or VIP on Friday night)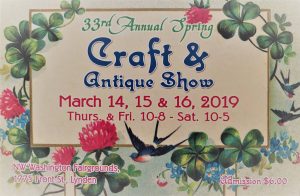 March 14th, 15th, & 16th will be the 33rd Annual Spring Lynden Craft and Antique Show!
Enjoy all the fabulous booths featuring unique handcrafted wares, home and garden décor, gourmet treats, one of a kind gifts, repurposed and vintage treasures.
Meet the local artisans and be inspired by all the creativity on display!
Thursday and Friday: 10am – 8pm
Saturday: 10am – 5pm
Northwest Washington Fair Expo Building
Admission:
$6.00 Adult
$5.00 Senior 60+,
12 & under Free,
Return Privileges
Event Parking is FREE
Admission to the show gets you full admission privileges for all three days of the show.

This year will be the 6th fair growing every year. With over 70 vendors selling all kinds of arts and crafts. This is an event that the art department at Lynden High School is putting on and look forward to this fair along with continuing to do the Christmas Fair, which is in its 13th year now.
Date: March 23, 2019
Time: 9 AM – 4 PM
Venue: Lynden High School
1201 Bradley Rd, Lynden, Washington 98264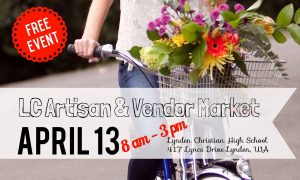 You won't want to miss the LC Artisan & Vendor Market! Come out and shop the diverse group of more than 70 local Artisans, Crafters, and Directs Sales Vendors. There really is something for everyone at this fun market!
ENTRANCE IS FREE!
For more information on these events or to find others in the area, you can find them on Facebook! Happy Spring