The Muljat Group North in downtown Lynden has serviced the local community and Whatcom County since 1925. This family owned company believes in going the extra mile to satisfy their clients. The Real Estate Professionals at Muljat believe in honesty, integrity and exceptional personal service to assure every client's satisfaction in each transaction!
Establishing personal relationships is a key to doing business and we at The Muljat Group North offer expertise in recognizing our clients wants and needs. Come and let us prove that "Lynden's most trusted real estate company" can and will work for you!
Our Mission
Muljat Group North is dedicated to the goal of becoming more effective and successful in representing buyers and sellers of real estate by offering a complete brokerage service to meet the individual needs of our customers and clients.
Our company recognizes this can only be accomplished if it is successful in developing, and retaining brokers and employees who have the knowledge, ability and desire to grow with our company.
Regardless of whether you are a new agent, new to our company, or are one of our support staff members, we must function as a team and have a common objective of continued success from our efforts in developing our careers in real estate!
Benefits
Private Furnished Office
Conference Room available for you and your clients
Great central location with walk-in traffic
Listing Photography
Support staff available to help with your listing needs
Flyers and Just Listed Cards
Press Releases and Broker Publicity
Listing Advertising
Editable Publisher Templates with suggested content
Ongoing training with award-winning Real Estate Instructor/Trainer
Weekly Sales Meeting and Tour
On-site Mortgage Professional
Company-sponsored community events designed to give you maximum exposure
On-site Managing Broker available for your questions and needs
E&O and L&I Insurance covered
Access to Brevity - a CRM program - absolutely free!
Access to The Lones Group for continued professional marketing assistance and advice
Buffini Peak Performance Training offered Bellingham Muljat Group
Over 200+ leads generated per month and distributed amongst agents
No transaction fees
No corporate fees - all monies paid stay local and is circulated back into the local community
Part of the Community
Muljat Group North is proud to give back to our community and participates in a variety of local-focused events. Here are just a few ways you can see us out and about, giving back!
Curt Maberry Northwest Raspberry 3 on 3 Tournament
We coordinate this annual event that takes place during the Lynden Raspberry Festival in memory of Curt Maberry, local youth sport supporter and founder of Curt Maberry Farm.
Annual Soup Kitchen
We serve over 300 bowls of soup during the Lynden Light Parade every December right out of our office.
Food/Coat/Toy Drives
We run various community service drives as needed in the Lynden community usually in connection with a local church or project hope
NW Washington Fair
We have a booth at the Fair, allowing our brokers to connect with our community.
Supporting Local Athletics
We sponsor many youth and local teams including AAU, area teams, high school athletics both from Lynden and Lynden Christian schools.
Socials
We host quarterly socials for the Lynden REALTORS® and affiliates at a local venue
Education
We offer education courses at our office typically including clock hours 3-4 times per year
Industry Affiliations
We work with a variety of local trade associations that enhance our opportunities and engagement within the industry, including: Washington Association of Realtors®, Whatcom County Association of Realtors®, Northwest MLS, Commercial Brokers Association, Realtors® Land Institute, Bellingham Whatcom Chamber of Commerce and Industry, Whatcom County Conventions and Visitors Bureau.
Meet Your Managing Broker: Jerry Blankers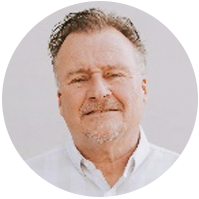 These days it's hard to find someone who has been actively working at the same company for over forty years, but Jerry Blankers has been with the Muljat Group North since 1980. Jerry also has extensive experience in property development, having developed over 300 single family lots and condominiums, and has even owned and sold commercial properties and apartments. Jerry had obstacles to overcome early on in his career and feels that this prepared him to not only learn from his own setbacks, but also to help others understand how to best plan for their future; he uses his experience and knowledge to help the agents in his office reach their full potential.
The traditions of honesty, integrity and a strong work ethic are alive in this company, and yet Jerry views himself more as a counselor to his agents than a high-pressure broker. Jerry prides himself on his communication skills, guiding the agents in his office through the technical processes involved in real estate transactions.
Jerry has lived in North Whatcom County his entire life and now enjoys coaching youth basketball and softball teams in Lynden. He continues the community's legacy of farming through his family hobby farm. He raises cattle and has a reputation in the community for producing some of the best beef around!
Serving the Lynden community is one of Jerry's most important missions. From the Curt Maberry Memorial 3 on 3 Basketball Tournament to getting involved with Main Street events and the Lynden Chamber of Commerce, Jerry's work ethic and attitude is apparent. Traveling, cooking, and spending lots of time with his grown kids and grandchildren keep Jerry busy and fulfilled.
As Your Managing Broker
Jerry is available for your assistance and for consultation as needed. Whenever you need clarification or an answer to a problem that you cannot solve, ask our managing broker for assistance.
The managing broker will review all contracts written by new brokers before presenting them for two years.
Jerry's many years of experience, community connections, and connections at the county and city level will benefit your business.
Intrigued? Ready to Come On-Board?
Reach out to learn about our easy transition plan, designed for the least amount of disruption to your career as possible.
Let's Talk!