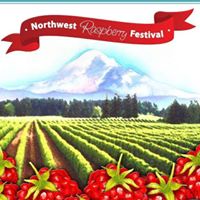 The Northwest Raspberry Festival is this weekend, July 14-15, 2017, in downtown, Lynden. Don't miss out on all the fun events happening in "Berry Beautiful Lynden"
The Muljat Group North Real Estate office will be presenting the 19th Annual Curt Maberry Memorial Classic 3-on-3 Basketball Tournament on Friday & Saturday. This is a huge event that draws 200+ teams from multiple counties and Canada. Teams play right smack in downtown on Front Street with thousands of people cheering on their favorite 3-on-3 basketball team.
The $2 icecream with raspberries is supplied locally by Edaleen Dairy and Curt Maberry Farms. This dessert is so popular that it has ran out in previous years. So get in line for this refreshing treat.
On Saturday the 3-on-3 basketball games continue to be played! The Razz and Shine Classic car and truck cruise in is happening on Saturday with classics parked along tree-lined Front Street. The weather will be beautiful this weekend in the eighties. Perfect weather to stroll around the polished classics of yesteryear!
A street stage will be set up on 6th Street on Friday, July 14, and will feature, Scot Ranney from 3:00pm-5:00pm and The Anissa Quartet, from 5:30pm-8:00pm. On Saturday the Street Stage will host at 11:00am-12:00pm, the Bellingham Youth Jazz Band; 12:30pm-2:30pm Out of The Ashes; 3:00pm-5:00pm Clearbrook Dixieland.
A variety of family fun events for all! Check them out right here or contact the Lynden Chamber of Commerce for more details. The Lynden Chamber of Commerce telephone number is 360-354-5995. We look forward to seeing you this weekend at the RAZZ!