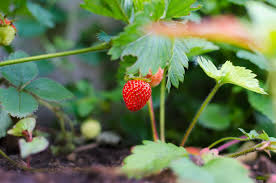 It's U-pick strawberry time in Whatcom County! Don't hesitate as the strawberry picking season is short. Typically the strawberry harvest starts after school begins summer break. Absolutely, nothing compares to a freshly picked strawberry right off the vine. Gather up your buckets and children and head out to some of the local berry farms:
Barbie's Berries U-pick is open! They are located at 7655 Melody Lane, Ferndale. They offer a wide variety of berries through out the summer growing season. Strawberries, raspberries, blueberries and blackberries are hand picked daily. Frozen berries are available all year. If you can't make it to their field they have stands at Fairway Shopping Center, 1750 Front Street, Lynden. They also have another stand located at Raspberry Ridge Golf Course, 6827 Hannegan Road, Everson. Contact Barbie's Berries at 360-384-1260.
Curt Maberry Farm strawberries have been a part of the Maberry farming tradition since the beginning. They are currently growing Hood, Puget Reliance, Puget Summer, and Totem Strawberry varieties. The fourth generation of Maberry's are now farming and harvesting nearly 1,000 acres of delicious strawberries, red raspberries, and blueberries. They are located at 697 Loomis Trail Road, Lynden. Call them at 360-354-4504.
Boxx Berry Farm has a market store and is located at 6211 Northwest Road, Ferndale. The strawberry U-pick is open right now. Boxx Berry Farm sells an array of vegetables, flowers and tree bearing fruit. Check them out! They have containers for you to pick in and boxes to transport your berries home. Call them first if it has been raining. They have an annual strawberry festival with wagon rides, kid train rides, free strawberry sundaes, raffle prizes, and of course lots of strawberries! They offer Puget Reliance, Tillamook, and Shuksan strawberries.
The Northwest Raspberry Festival will be held in downtown, Lynden, on July 14 and July 15. You don't want to miss this annual festival. It is held in conjunction with the Curt Maberry 3on3 Memorial Classic Basketball Tournament. If you are interested in registering a basketball team call our office 360-354-4242. This is a fun event that draws thousands of visitors to Lynden.