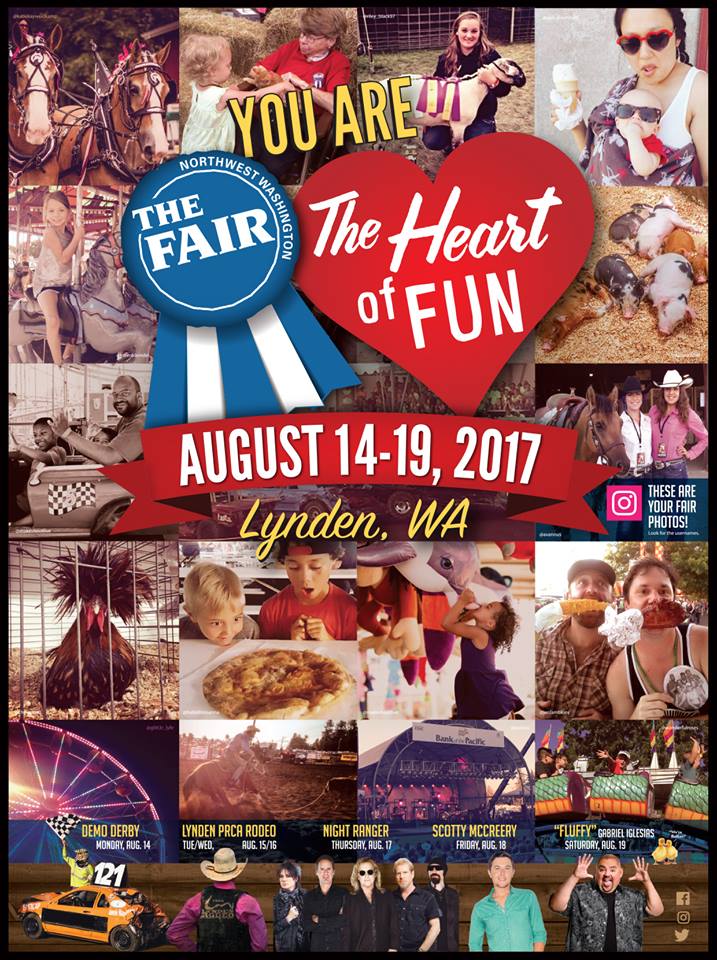 Five days until the Northwest Washington Fair in Lynden. You don't want to miss out on any of the fun! Carnival rides, great food fair, awesome grandstand entertainers, demolition derby, rodeo, animal exhibits, quilts, canning, arts, photography, 4H and FFA exhibits. For over 100 years the Northwest Washington Fair has highlighted the agriculture of the Whatcom County area. Dairy and beef cattle, horses, and many other species of livestock are shown by 4H, FFA and Open Class exhibitors. There are hundreds of exhibits featuring baked goods, canning, flowers and fresh produce grown locally.
The Fair is located at 1775 Front Street, Lynden.
The gates open at 9 a.m. each day and close at 10 p.m.. Carnival hours are 11 a.m. to 11 p.m.
Demo Derby is on Monday, August 14, with shows happening at 12:30 p.m. and 7:30 p.m.
Lynden PRCA Rodeo is happening August 15 & August 16. The top cowboys in the Professional Rodeo Cowboys Association will compete in the 13th annual rodeo. The event includes bull riding, bareback riding, saddle bronc riding, steer wrestling, tie-down roping, team roping and barrel racing. Children 10 and younger will be admitted for FREE to the performances, which start at 7:30 p.m., both nights. Tickets are on sale now – get them while they last!
Grandstand entertainers this year include the rock band, Night Ranger, which performs 80-100 live shows annually and they continue to release new music even though the band is 35 years old. Night Ranger will be rocking the stage on August 17. Musical country star and 'American Idol' winner of 2011, Scotty McCreery will be performing on August 18. "Fluffy" Gabriel Iglesias, first time comedian to headline a fair grandstand show on Saturday, evening August 19.
Ride free to the Fair and everywhere! WTA is community driven and ride the buses free during August 13-19. Also, watch out for the many parking lots around town that offer free bus rides to and from the fair!
Our real estate booth will be set up in the commercial exhibit building – please drop by and say hello! Hope to see you at the Northwest Washington Fair!